Daniel Day-Lewis Biography
Daniel Day-Lewis (April 29, 1957) actor. He was born in Kensington, London. From an early age, he entered the National Youth Theater and then at the Bristol Old Vic theater school. He had a great interest in cinema thanks to his grandfather, Sir Michael Balcon, a leading producer of British cinema. His father, Cecil Day-Lewis, was a poet of Isabel II and his mother, Jill Balcon, was a theater actress. His first performance was in the film Sunday Bloody Sunday (1971), a drama directed by John Schlesinger.
He started earning some money while working on some television productions and some theater plays. In 1982 he was assigned a secondary role in Gandhi. Two years later, he performed in The Bounty, adaptation of the naval classic. His international fame came thanks to My beautiful laundry, by director Stephen Frears. He knew how to profile Lewis as a perfectionist actor. Thanks to his role in My Left Foot, he won the Oscar for Best Leading Actor and the Best Actor Award for the London Critics Circle Film, also a BAFTA Award and a distinction from the National Society of Film Critics. Lewis began a romantic relationship with French actress Isabelle Adjani.
He was characterized by being an extremely selective actor in the choice of his roles. An example of this was his rejection of acting roles in Philadelphia or Interview with the vampire. He made a montage of Shakespeare's Hamlet at the National Theater. During his professional career he has had to acquire many skills and abilities, also make several physical changes. The last Mohican was an example of that.
In 1993 he was with Jim Sheridan In the name of the father, it is the true story of a father and son who were unjustly imprisoned for alleged membership in the IRA. It was an intense year in his career because he also shot the historical drama: The Age of Innocence, by director Martin Scorsese, the production went unnoticed unfairly. He made casting to keep the role of Vincent Vega in Pulp Fiction but was rejected by Quentin Tarantino who preferred to give the role to John Travolta.
Lewis rolled The Ballad of Jack & Rose (2005). Then, he won his second Oscar for best lead actor in the history of Daniel Plainview, a miserable miner who became an oil tycoon. Steven Spielberg offered him to star in an important historical production focused on the last stage of the mandate of the American president who abolished slavery: Lincoln (2012). It was a blockbuster and critics confirmed it. The film received twelve nominations and was nominated for an Oscar. In the end, he took a statuette to the best art direction, and Day-Lewis third Oscar, for his interpretation of Abraham Lincoln. In short, he has deserved three times the Oscar for the best leading actor for his performances in My Left Foot (1990), Wells of Ambition (2008) and Lincoln (2012).
At the age of 60, Daniel Day-Lewis announced his retirement from acting. The news was spread by Leslee Dart, his agent: Daniel Day-Lewis showed his immense gratitude to all his collaborators and his audience.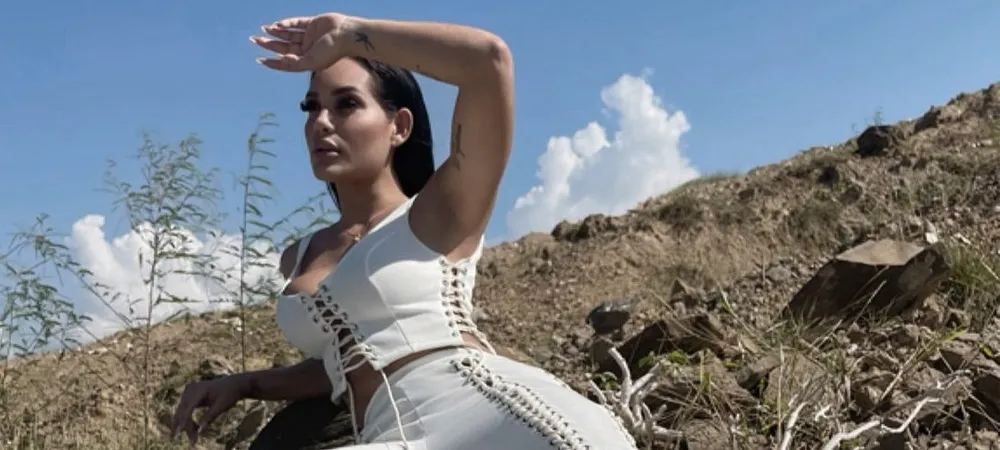 Andrea Valdiri biography
Andrea Ospino Valdiri (born July 23, 1991) is a Colombian model, dancer, Instagram star, and singer. She was Miss Colombia in 2015 and is known on social media for her beauty, dancing, and fashion sense. She also has a line of women's clothing and swimwear. In 2017, she gained recognition on social media for the Bella y Sensual challenge, and a year later she became famous for the Dura Challenge, being recognized by Daddy Yankee himself. Her debut single, "Violento," was released in 2019.
Early years
Andrea was born and raised in Barranquilla, Colombia, and is very close to her family. Her parents are Eduardo Ospino and Carmen Valdiri, and she has two sisters: Shujam and Fairuz. According to her, she suffered abuse at the hands of her father, who was addicted to drugs and alcohol. She showed an interest in sports from a young age, and was a member of a skating team. She began modeling at the age of fourteen. After finishing high school, she received a sports scholarship to study Radio and Television Production and Direction at the Autonomous University of the Caribbean.
When Andrea was 19 years old, her partner died in a traffic accident while they were expecting their daughter, Isabela. After the loss, she focused on moving forward for her daughter's sake. She resumed her modeling career with determination and launched her own swimwear brand, La Valdiri. She also finished her degree and began appearing in music videos and popular events. Gradually, she gained recognition.
Andrea Valdiri: Miss Colombia and Instagram fame
Five years after the birth of her daughter, Valdiri represented the Atlantic region in the Miss Colombia Beauty Pageant and won the crown among 17 other beautiful contestants. Once chosen as queen, she carried out her duties at events and social works throughout the country excellently.
Although she gained recognition during her time as queen, fame came years later through Instagram, where she is known for her sensual dances and outfits. It was in 2017 when she began to draw attention from the public with her videos when she participated in the Bella y Sensual challenge, proposed by Romeo Santos. The challenge had as its goal to choose three fans who would appear in the music video, performed alongside Nicky Jam and Daddy Yankee. Of course, Valdiri was chosen.
After appearing in the video, her popularity grew, as did her number of followers. Later, she drew attention again with her video of the Dura Challenge by reggaeton artist Daddy Yankee. The success of her choreography was unprecedented, and she was even recognized by the singer himself, who didn't hesitate to repost her video on his social media.
Since then, she has been a trend on several occasions for her choreographies, challenges, outfits, and character imitations. On her Instagram, Valdiri has appeared dressed as Freddie Mercury, Mystique, and Jessica Rabbit, among others.
The success on social media has not prevented her from continuing her work as an entrepreneur. She now not only owns her La Valdiri brand, but also a dance academy and a fitness center. In addition, as an influencer she promotes various lines and products.
Debut as a singer
In March 2019, Valdiri made her debut as a singer with the release of the single "Violento".
2020: Pregnancy with her second child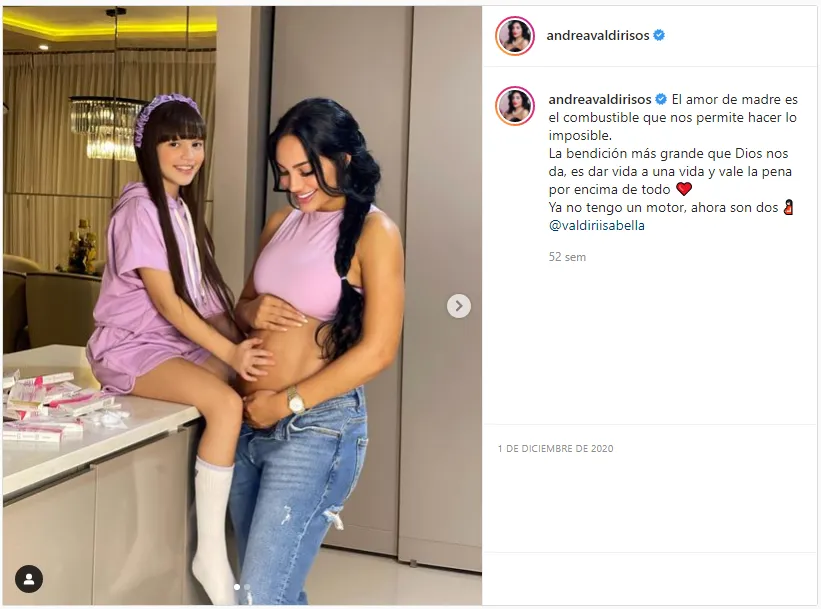 On June 9, 2021, Adhara was born, her second daughter.
Marriage to Felipe Saruma
On April 16, 2022, Valdiri married digital content creator Felipe Saruma. The celebration took place at the Hotel El Prado in Barranquilla with a large number of attendees, mainly family, friends, and people from the media close to La Valdiri's circle. Among the influencers invited to the wedding and subsequent celebration were Epa Colombia, Karen Lizarazo, La Jessu, Yuranis León, and Beele. The dress and all the designs used by La Valdiri were in charge of Venezuelan designer Armando Maya.
Some photos and special moments of the wedding went viral on social media, such as Instagram and Twitter.
Palabras de Andrea #Valdiri luego de casarse con Felipe #Saruma 🥰 pic.twitter.com/0T4Z9iYrwA

— El Barba Roja ⚽️ (@PedroJoseFCB) April 17, 2022
Her wedding was the cover of Vea magazine – D1 issue N° 7.
https://www.instagram.com/p/Cc1T1ZNu-ir/?utm_source=ig_embed&ig_rid=31da6f18-58b3-4b2d-a36a-e6c789d12322
Recognitions
On May 31, 2018, she won the award for Influencer Dancer of the Year at the Digital Stars Awards
Curiosities about Andrea Valdiri
He rented a amusement park to celebrate his 30th birthday with his friends and family.
His sister Fairuz is an industrial engineer.
His daughter, Isabella, was born on March 3, 2011.
She dated soccer player Michael Ortega until 2017.
She was in a relationship with singer Lowe León in 2021.
In April 2020, Valdiri was injured in a fight with her sister Shujam.