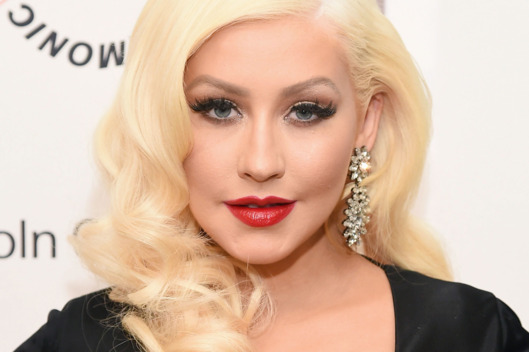 Christina Aguilera biography
Christina María Aguilera, better known as Christina Aguilera, is a singer, actress, composer, dancer, producer, model, designer and American businesswoman of Ecuadorian and Irish origin. She is recognized for her powerful voice and her ability to sing acapella. She was born on December 18, 1980, in Staten Island-New York, United States, and is the daughter of Fausto Wagner Aguilera (Ecuadorian) and Shelly Loraine Fidler (Irish-German).
Christina Aguilera began acting and singing as a child, through roles in theatrical productions and television shows starring Star Search and Mickey Mouse Club. Her artistic career began to be built, from her childhood, since recognized as "the little girl with the great voice" She also participated in shows for young talents, and at the age of eight appeared for the first time in the Star Search television contest, singing the song "A Sunday Kind of Love" by Etta James, but did not win.
Christina sang The Star-Spangled Banner, the national anthem of the United States, in the introduction of local hockey, baseball and football matches. She later presented a casting for Disney's children's company for a new version of the Mickey Mouse Club television show. In 1994, the program was canceled and the singer began recording a demo album called Just Be Free, along with the company Warlock Records.
For the year 1997, she collaborated in the single "All I Wanna Do" with the Japanese singer Keizo Nakanishi. That same year she represented the United States at the Golden Stag International Festival, where she sang along with artists Sheryl Crow and Diana Ross.
In the year 2000, Christina Aguilera won her first Grammy Award in the category of "Best New Artist" surpassing singers like Britney Spears and Kid Rock.
For the year 2006, after the success of her first albums, Christina Aguilera released her third studio album entitled "Back to Basics" which received many positive reviews and included elements of soul, jazz and blues. The singles "Is not No Other Man", "Hurt" "and" Candyman" reached high positions.
In 2008 she released her first compilation album entitled "Keeps Gettin 'Better" On September 7 of that same year, at the MTV Video Music Awards, Christina performed "Keeps Gettin 'Better" along with the "Genie 2.0" mix. The song debuted in the seventh place of the musical list of the United States. That album surpassed the 5 million copies sold worldwide and reached the Golden Record in the United States.
Her fourth studio album was called "Bionic" and was released in June 2010. That same year she premiered the movie "Burlesque" and on November 15 received a star on the Hollywood Walk of Fame.
Christina Aguilera participated as a judge in the musical program "The Voice" with singers like Adam Levine, with whom she collaborates in the single "Moves Like Jagger" and with Cee Lo Green and Blake Shelton with whom she recorded the studio album "Lotus" in 2012.
For the month of April 2014, she announced that she had started working on her eighth studio album, and she engaged with Matthew Rutler. On August 16, Christina gives birth to her second daughter Summer Rain Rutler. She also confirmed her participation in Broadway 4D, as well as a cameo in the Nashville series and the recording of a new soundtrack.
In 2015, she returned to the stage. In the 57th edition of the Grammy Awards, and with A Great Big World they won a Grammy, winning the category "Best Duo" / "Best Pop Group Performance" for "Say Something" being the sixth Grammy in the career of Christina Aguilera.
DISCOGRAPHY
 ALBUMS
1999: Christina Aguilera.
2000: My Kind of Christmas.
2000: My Reflection.
2002: Stripped.
2006: Back to Basics.
2008: Keeps Gettin 'Better: A Decade of Hits.
2010: Bionic.
2012: Lotus.
SINGLES
We Remain: 2013.
The real thing: 2015.
Shotgun: 2015.
Telepathy: 2015.
Change: 2016.
PARTICIPATIONS IN CINE AND TELEVISION
Mickey Mouse Club (1993-1995).
"Reflections on Ice: Michelle Kwan Skates to the Music of Disney's 'Mulan'" (Voice) (1998).
Beverly Hills, 90210 (1999).
Saturday Night Live (2000-2006).
Shark Tale (2004).
Shine a Light (2008).
Project Runway (2009).
Entourage (2010).
Get Him to the Greek (2010).
Burlesque (2010).
The Voice (2011-2015).
Pitch Perfect 2 (2015).
Tracks (2016).
Emoji Movie (2017).
Zoe (futuristic love film) (2018).
Christina Aguilera has won five Grammy Awards with a Latin Grammy, which is why she became the first American to win a Latin Grammy, obtaining it for "Best Female Pop Vocal Album". Throughout her career in the music industry she has won awards thanks to her five studio albums: Christina Aguilera album, Stripped, Back to Basics, Bionic and Lotus, and for the only Spanish-language album Mi Reflejo. She has also won prizes for live performances and s one of the most awarded celebrities for her perfumes, with a total of 34 awards.
She was elected the most influential celebrity in the Times in 2013, in 2014 she was chosen as the celebrity and most influential mom in recent years.
AWARDS
1999
Ivor Novello Awards (International success of the year Genie in a Bottle).
Teen.com Awards (Best song by female artist Genie in a Bottle).
Billboard Awards (First Woman to introduce R & B into Pop Music).
VH1 Awards (Bubble Gum Queen).
2000
BLOCKBUSTER AWARDS TO:
Favorite Single (Genie in a Bottle).
Favorite New female artist.
VH1 POLL TO:
Sexiest teen idol of 2000.
Best Video Teen Pop (Come on Over Baby – All Want Is You).
Alma Awards for Best New Artist.
TEEN MAGAZINE AWARDS TO:
Best female artist
Best girl power song – What a Girl Wants.
2001
LO NUESTRO AWARDS:
Best novel artist
Best female artist
Eternal patron of Britney.
2002
TMF AWARDS (HOLLAND) TO:
Best Female Seller of the year – Christina Aguilera.
Pop Princess of This decade – Emi Awards.
2003
MTV TRL AWARDS TO:
AWARDS TMF BELGIUM TO:
Best Stripped International Album.
Best International Female Artist.
Best International Fighter Video.
2004
GLAMOR WOMEN OF THE YEAR AWARDS TO:
Woman of the year.
Best Singer of 00s.
Yahoo Relevant Artists of Decade.
2005
ASCAP POP MUSIC AWARDS:
Best Video Both- "Can't Hold Us Down".
2006
MTV Europe Music Awards
Best Female Artist.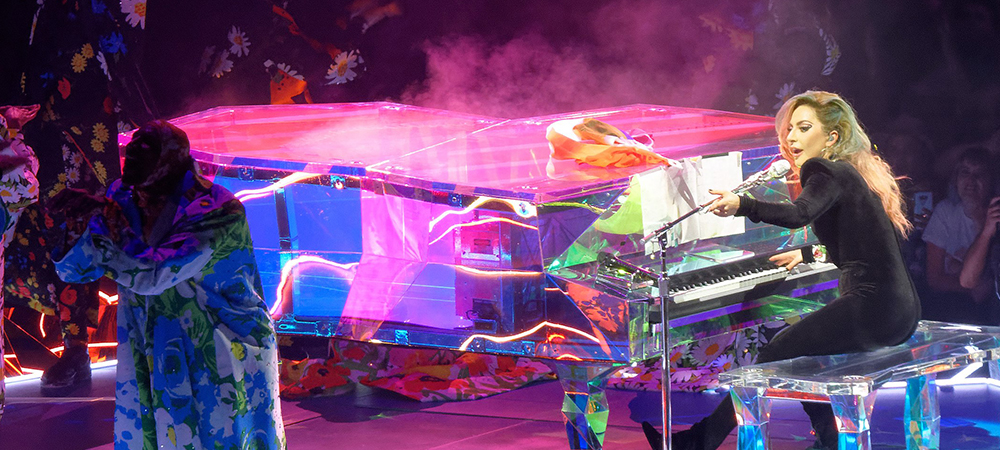 Lady Gaga Biography
Stefani Joanne Angelina Germanotta (March 28, 1986). Pop singer. Known worldwide as Lady Gaga. She was born in Manhattan, New York, United States. Her mother, Cynthia Louise Bissett, vice president of the mobile operator Verizon. Her father was businessman Joseph Anthony Germanotta, Jr. Director of an internet network company.
Early life
She grew up in the exclusive Upper East Side of Manhattan, in a Catholic family. For this reason, her parents enrolled her in the Convent of the Sacred Heart, a religious and elitist school. She was very fond of music since she was a child, she learned to play the piano and, at thirteen, she wrote her first song. She was a participant in open mic nights. Her favorite singers were Queen, Michael Jackson, Madonna, and David Bowie. Upon completion of high school, she entered New York University's Tisch School of Art to study music. But she did not finish her studies, she abandoned them to start her musical career.
Musical beginnings
She began by performing melodic songs on the piano in clubs and small bars in New York. Her first production was made by her with producer and composer RedOne, they called it: Boys, Boys Boys. This production was not successful. A little heartbroken, she decided to return to her parents' house and began to perform in a New York club, in burlesque, avant-garde, and dance performances. At that time, her life knew drugs and uncontrolled parties. In 2007 she began working with Lady Starlight, they began to perform in venues in downtown New York. They participated in the American music festival «Lollapalooza». Again, she focused her life on music, later, she got Sony / ATV to release her single. Using her writing skills, she wrote songs for Britney Spears. Also, she worked for Interscope, her role was to compose for the New Kids on the Block, Fergie, Akon, and the Pussycat Dolls. Simultaneously, Stefani was performing on the Lower East Side with cover bands such as Mackin Pulsifer and SGBand.
While she persisted, unsuccessfully, in contacting and seeking support in some record companies, the situation would change when meeting the music producer Rob Fusari. He promoted her musical career, thanks to his support they built a strong working relationship, and this led to a sentimental relationship. It was Fusari who gave her her stage name, Lady Gaga, in honor of the song Radio Gaga by Queen, one of Stefani's favorite groups.
At a recognized event, Akon, who already knew Lady Gaga as her songwriter, heard her sing and decided to offer her a contract for his record label, Kon Live Distribution. Gaga certainly accepted it. Thus began Lady Gaga to be known as a singer. At this stage, she had the collaboration of Fusari and other producers such as RedOne and Martin Kierszenbaum.
Debut and Career
The young singer debuted with her album, The Fame. A mix of electropop; the synthpop of the 80s and dance sounds. The success was imminent, it was one of the best-selling albums in 2009 worldwide, with more than 12 million copies, and it reached the Top 1 in countries such as the United Kingdom, Canada, and Ireland.
Her vision was great, she not only wanted to release a single, but an album. Lady Gaga's first album, Just Dance, appeared in April 2008, just around the time of her separation from Fusari, it caused a stir. It was number one in countries like the United States; more than 400,000 digital downloads are estimated, including Canada, Australia, and the United Kingdom. For this work, the brand new artist was nominated for a Grammy for the first time. In October 2009, she was awarded the Rising Star of 2009 award from Billboard magazine.
At the end of the same year, Lady Gaga released her second studio album, called The Fame Monster. Later, she presented her first single, Bad Romance, at Alexander McQueen's Spring / Summer 2010 fashion event. The impact couldn't have been better. Bad Romance was number one in countries such as the United Kingdom, Canada, Italy, Ireland, Spain, Peru, Germany, France, Sweden, Austria, and Denmark, and its promotional video, admired for the innovative elements and excellent paraphernalia, exceeded 200 million visits on YouTube, becoming the most viewed in history.
On the album The Fame Monster. There was the song Paparazzi. The video was a boom. Lady Gaga's songs were tuned in on radio stations and the artist was featured in well-known magazines. Thanks to her fame, she embarked on her first tour: The Fame Ball Tour; this tour had an admirable reception, it sold out stadiums and large venues. Later, she was nominated for the Grammy Awards. The videos of her were irreverent and gave a lot to talk about, they swept on television and especially on the Internet. Platinum blonde appears in Just Dance; with a lightning bolt on her cheek, inspired by David Bowie from Aladdin Sane, another of her references.
On the other hand, on Poker Face she incorporates her sexiest and most futuristic style. Poker Face won three nominations on MTV Video Music Awards 2009, including the best video of the year. His videos can be summarized as extravagant hairstyles, excessive makeup, sidereal or cosmic style wardrobes, or simply exuberant, increasingly sophisticated scenography, choreographies close to pornography.
Gaga style
Her way of being was linked to her music, she was an eccentric girl and eventually gave explosive statements to the press, she declared herself a hermaphrodite. All these scandals made her more and more popular, and she was the focus of all eyes on her. Her next single was Telephone, played in a duet with Beyoncé. She also premiered Alejandro and Dancer in the Dark. Gaga embarked on her second world tour, The Monster Ball Tour, she officially announced it on October 15, 2009. Described by Gaga as the "first electropop opera", the tour would be present on all five continents. It would end in Spain in two only concerts, in Barcelona and Madrid. The tickets were sold in just three days. Billboard announced that the song Telephone, from the album The Fame Monster, peaked at number one on the Pop Songs chart, being the only singer in history to get the sixth consecutive number one from it.
In 2010, the news spread that her ex-boyfriend and producer Rob Fusari sued for the company Rob Fusari Productions, demanding the payment of a total debt of 30 million dollars, for being the co-author and co-producer of Paparazzi, Beautiful, Dirty, Rich, Disco Heaven and Retro, Dance, Freak. On the other hand, Lady Gaga was the main protagonist of the MTV Video Music Awards gala, receiving eight Awards. In short, 'Time' chose her as the artist of the year.
Born This Way
Gaga began production on the album: Born This Way. A mix of electronic music with rock 'n' roll, and pop. It sold more than a million copies in its first week after its release in the United States, topping the Billboard 200. In addition, Born This Way received three Grammy Award nominations. Gaga separated from her manager Troy Carter, in June 2014, along with her new manager Bobby Campbell and she joined Artist Nation. This music star declared in a documentary about her life, Five Foot Two, that she suffers from fibromyalgia, a disease that attacks muscles and bones, and it has cost her time off stage. Although, she is still extremely optimistic.